The Testing Center advances the access, student progress, outreach, quality environment, and lifelong learning mission of Rhodes State College for continuous improvement through support of high-quality testing and assessment services to a diverse student body, faculty, and administration, and extends these services to meet the higher learning testing needs of the local and extended communities while adhering to the National College Testing Association Professional Standards and Guidelines.
Hours of Operation
Appointments Required. Contact the Testing Center to make an appointment.
Monday-Thursday 8am-6pm
Friday 8am-5pm
The Rhodes State College Sensory Room, located in Tech Lab, Room 132 in the Testing Center, supports students, faculty, and staff by offering a tranquil space to decompress by combining the visual, auditory, olfactory, and tactile senses to increase mindfulness.  Open to all current students, faculty, and staff, the room uses a variety of therapeutic lighting, seating, sounds, and fidgets to assist with the regulation and decrease of stress.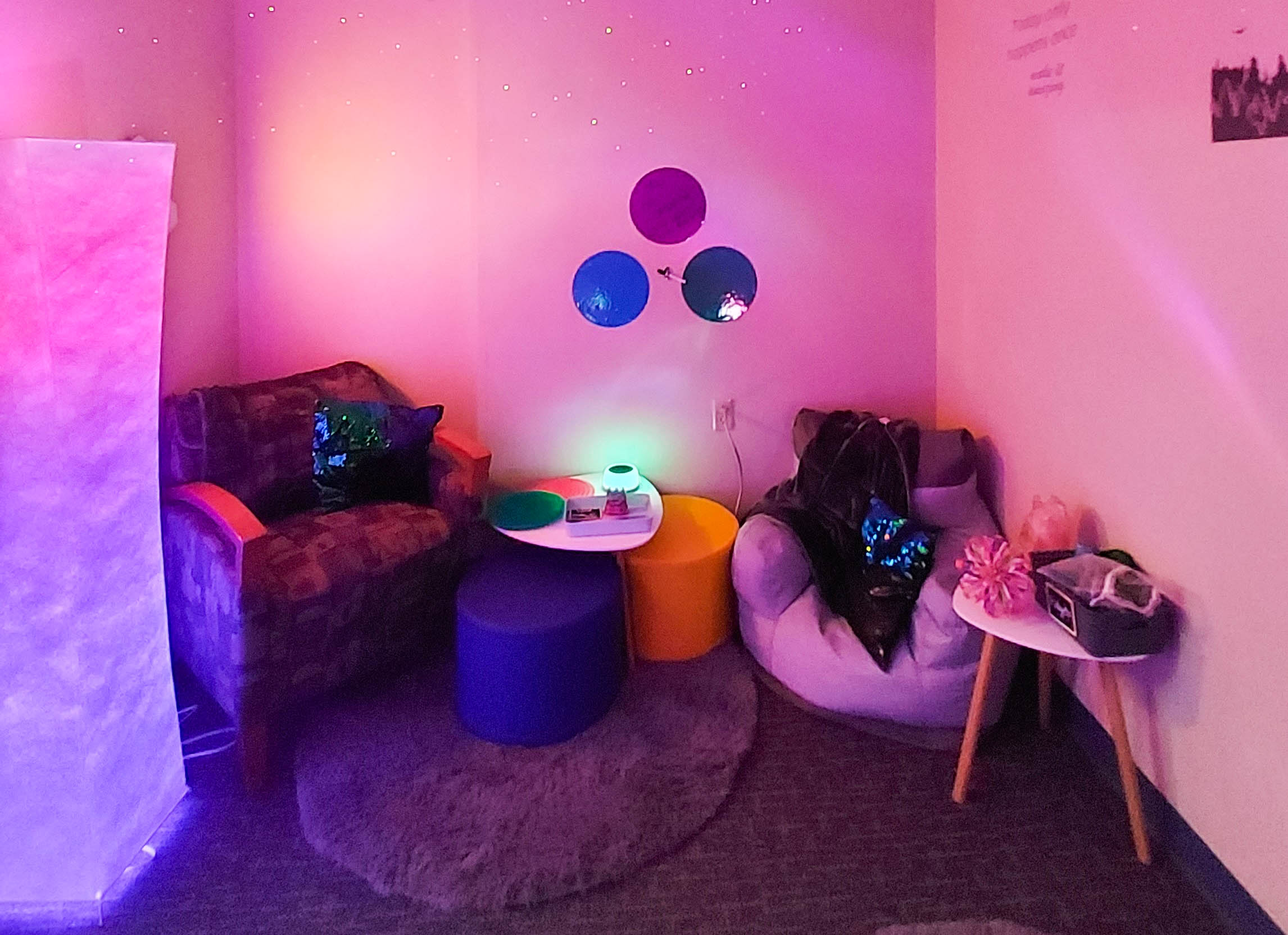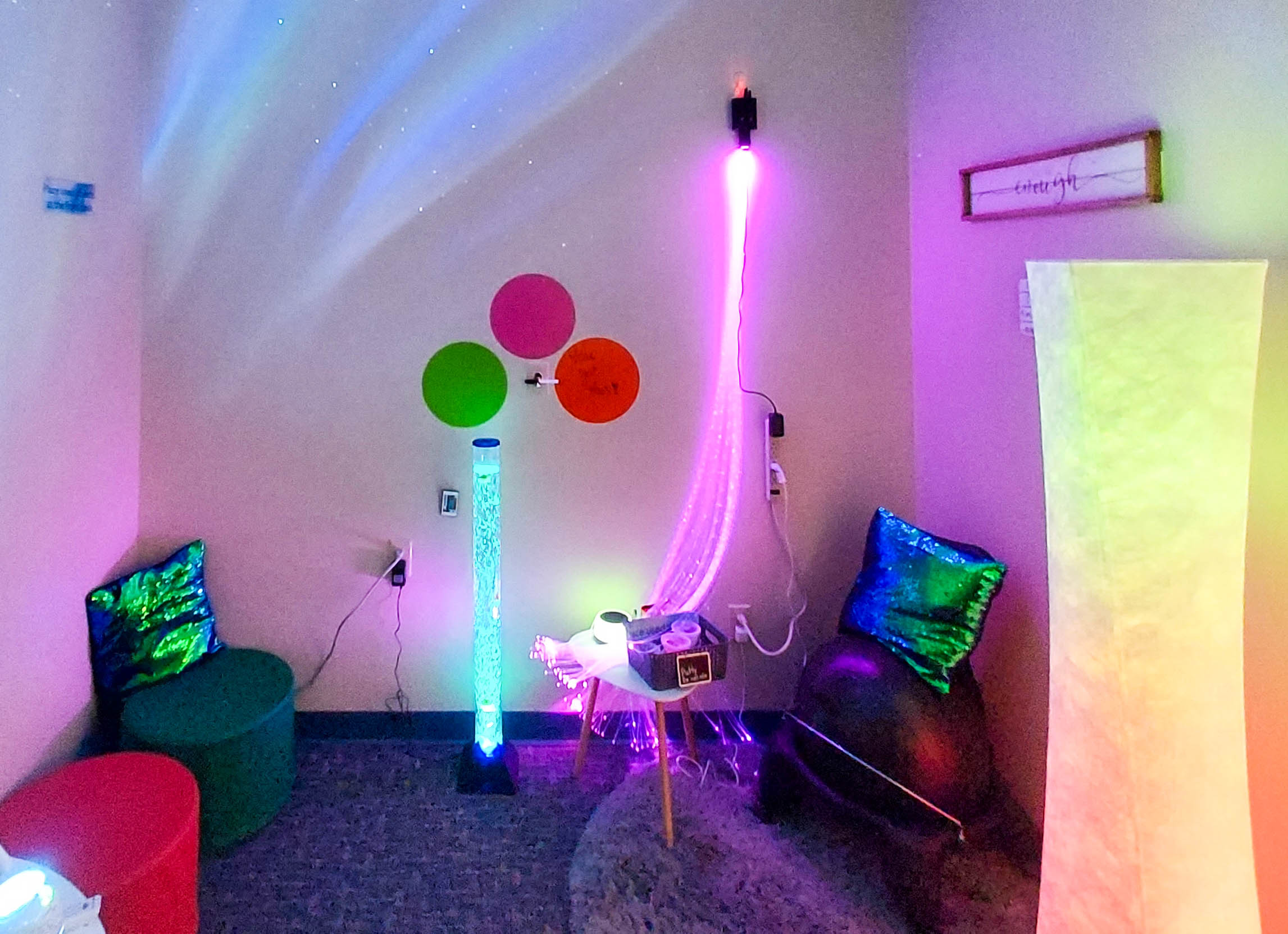 Regulations for Sensory Room:
Food and beverages are not permitted 
For best results, phones should be away
Four people are allowed at one time
During peak times, sessions will be limited to 20 minutes per person
To ensure the well being of all participants; users should:

Keep talking to a minimum
Respect personal space
Clean up after oneself
Hours of Operation: 
Monday-Thursday:  8:30am-5:30pm
Friday:  8:30am-4:30pm
Availability is on a first-come, first-serve basis.  For more information or questions, please contact the Testing Center at testcenter@rhodesstate.edu or (419) 995-8476. 
Get to Know Our Therapy Dogs!
Sam

Stella

Breed: English Setter
Age: 9 years
Likes: Stalking birds, taking walks, and car rides
Dislikes: Bath time
Favorite food: Lee's Chicken french fries
Favorite toy: Stuffed lamb

Breed: German Shepherd/Irish Wolfhound
Age: 2 years
Likes: Playing with balls, wrestling with Pup, running, swimming, agility, and Rally
Dislikes: Spinach
Favorite food: Liver treats and eggs
Favorite toy: Squeaky duck and her big outside ball

Samson

Hope

Breed: Saint Bernard
Age: 8 years old
Favorite toy: Doesn't like toys
Food: 4 cups of food a day
Favorite people food: Eggs
Favorite thing: Being petted
Least favorite thing: Having his ears cleaned and hot weather
Fun fact: Has ticklish feet

Breed: Brittany Spaniel
Age: 4 years old
Favorite toy: Anything with a squeaker
Favorite things: Running, being with people, going to school at LCC, frisbee
Fun fact: Ran a 5k, has an autoimmune disease
Least favorite thing: Baths, nail trimming
Favorite people food: Everything
ACCUPLACER
ACCUPLACER is a series of tests designed to assess students' academic skills in various subjects to assist college administrators with placing students into appropriate classes. Rhodes State College offers ACCUPLACER tests in Math, Reading, and Science to current and enrolling students. To schedule a test, please call or email the Rhodes State Testing Center.
NTN
National Testing Network (NTN) contracts with public safety departments to test candidates for potential jobs.  Rhodes State College offers the NTN kiosk exams. Candidates will register for and schedule the exam online (see link below), selecting the job and department of their choosing and Rhodes State Testing Center as their testing location. 
Pearson VUE
Pearson VUE offers certification tests for a vast variety of fields. Candidates will register for and schedule tests online (see link below). Rhodes State offers a large amount of Pearson VUE testing including but not limited to GED, NREMT, OAE, and CISCO. 
The tester has the responsibility to arrange with their instructor, higher education institution, employer, or other testing provider to have tests sent to the Testing Center. Tests must be at the Testing Center prior to any scheduled exam time.

A Rhodes State College student ID is required for Rhodes State College students.

Non Rhodes State College testers will need to provide the appropriate ID(s) that is in compliance to their test. Consult with the company of your test if you have questions pertaining to your ID. The Testing Center is only able to accept ID(s) that are identified by the test company holder.

All expiration dates are honored. Expired tests will not be administered until approval is received from the test provider.

All tests are due by closing time, finished or not. A 15-minute and a 5-minute warning will be given prior to closing.

Only the tester is allowed in the testing room. All others may sit in the Testing Center waiting area. Children may not be left unattended in the waiting area.

Once a test has begun, a tester may not leave the testing room unless there is an emergency or a permitted scheduled break. If there is a specific medical reason that the tester needs to leave the testing area, the proctor should be made aware prior to the tester entering the testing room.

Only permitted testing materials will be allowed into the testing room. Items will be inspected prior to entering the testing room. 

 

All other items will need to be secured in a locker.

Testers must return all testing materials, including scratch paper, to the proctor.

The Testing Center reserves the right to refuse testing to any disruptive tester. If a disruption occurs the proctor will file an incident report and copy it to the appropriate authority.

All testers must leave the area for just cause (eg. Fire drills, ordered school closings, etc.) regardless of whether tests are complete or not. Security will be contacted for any individual refusing to vacate the premises.
Exam violations will not be tolerated. Rhodes State College student violations will be communicated to their instructors. Non-Rhodes State College violations will be communicated to the appropriate test authority. This includes, but is not limited to:
Possession of prohibited materials in the testing room

Attempting to take tests for another student

Presenting forged identification