2022 Outstanding Professional Leadership & Service Award - Faculty
Joy Macke, Education Faculty and Faculty Assessment Champion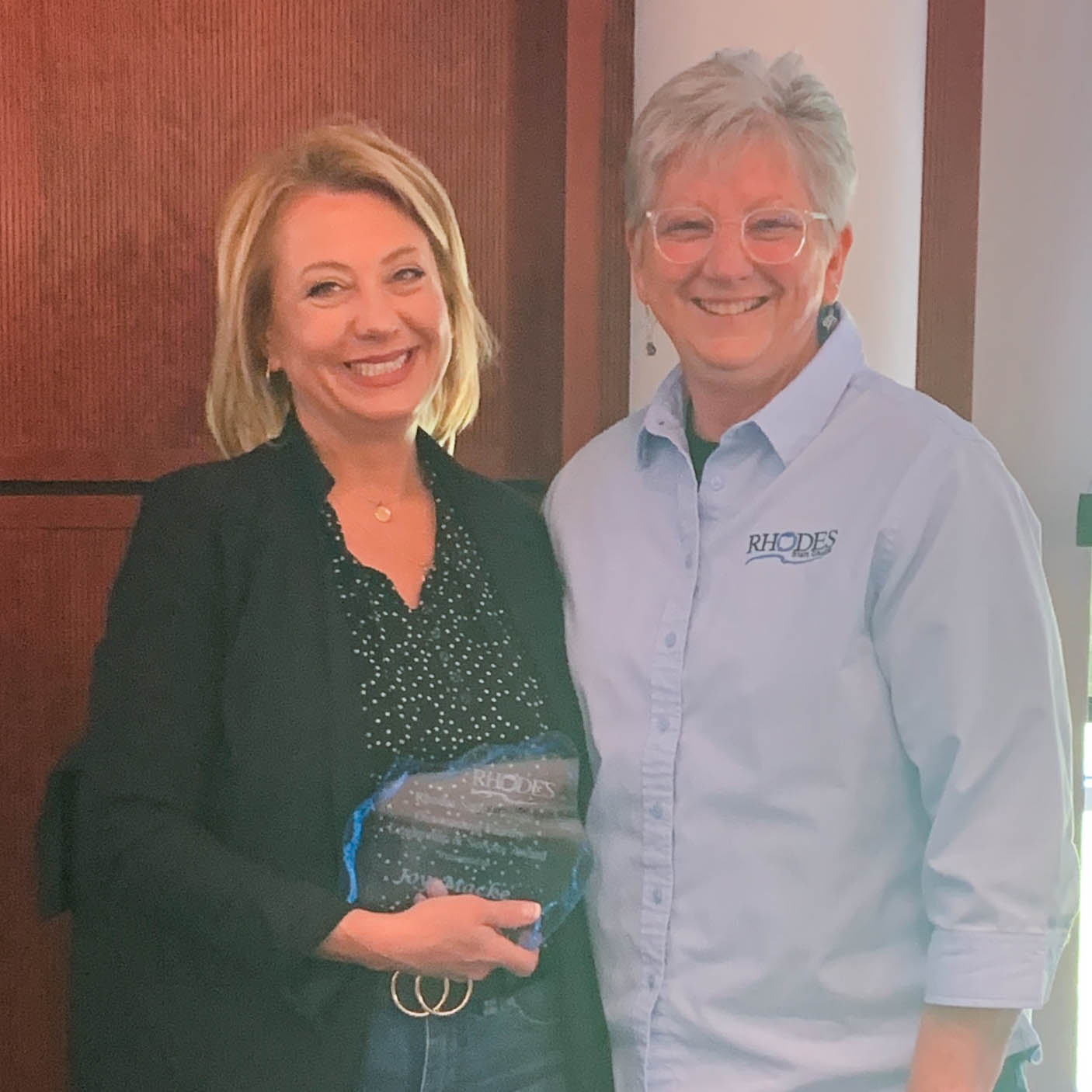 Joy was chosen as the 2022 Outstanding Professional Leadership & Service Faculty Award Winner for her endurance, patience and leadership as a role model. Joy's nominator stated "this individual is a true representative of our mission by changing the lives of students by engaging in new strategies to assess student level of understanding; build futures by creating the opportunities for students to engage with each other; and improves community by providing qualified graduates into the community." Joy attended and successfully completed the ACUE course - "Engaging Students in Synchronous and Asynchronous Learning Environments". From that training, implemented new teaching strategies including using five to 10 minutes of each class (online and traditional) to allow students to engage each other (learning from peers) and provides micro-lectures to students that can be viewed at any time.
2022 Outstanding Professional Leadership & Service Award - Adjunct Faculty
Nicole Dearth, Adjunct Instructor, Occupational Therapy Assistant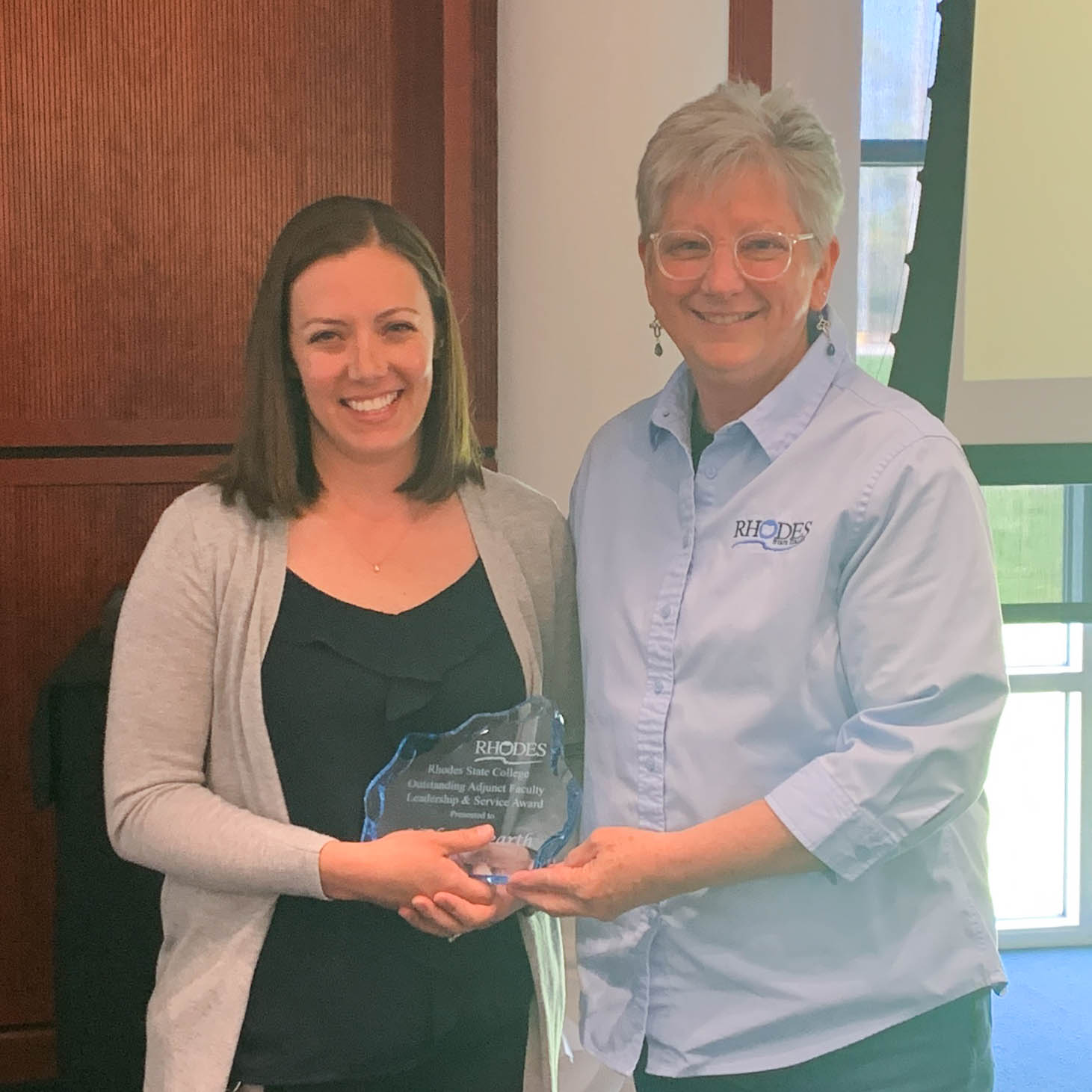 Nicole is considered by students to be an essential individual who has prepared them to enter the workforce. The students compliment her teaching style and ability. One of her most notable strengths is the ability to provide feedback on student behavior showing care and concern for each student's dignity and need for specialized professional development plans. Most recently Nicole offered our students an opportunity to assist in a summer intervention program with children with developmental disabilities in the community. She is active in our State and Associations and was selected from a significant number of applicants to be the newest member of the State Occupational Therapy, Physical Therapy and Athletic Trainer's State Licensure Board.  The nominator stated "As a colleague, I am inspired, excited and awed by the initiative, knowledge and passion which has led to work in meeting the needs of children in the community with Occupational Therapy services. Her energy and efforts have allowed her to reach children in need, all the while allowing our OTA students to benefit. Her enthusiasm, kindness and sincere concern for others make her a joy to be around."
2022 Outstanding Professional Leadership & Service Award - Professional/Administrative Award
Lindsey Balliet, Institutional Research Coordinator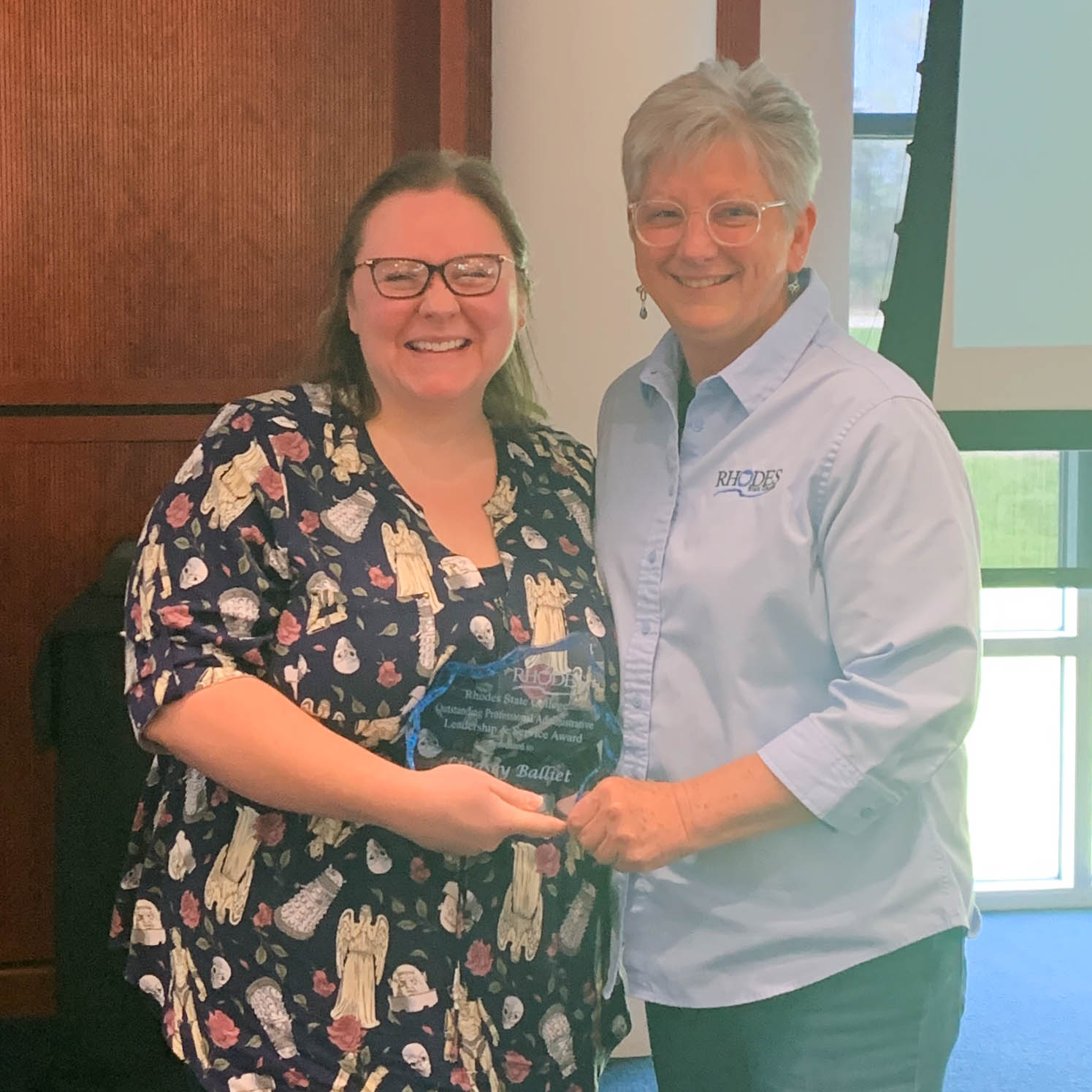 Lindsey was chosen as the 2022 Outstanding Professional/Staff Award Winner for her ability to process quickly, discuss options intelligently, reach consensus and move forward with change. During her short time with Rhodes, Lindsey has established positive collaborative relationships and partnered with various individuals from across the College (i.e. Registrar, Student Affairs, Enrollment Management, IT, Academic Affairs, etc.) on how best to present information with precision and accuracy and most importantly in a timely manner. When asked to take on an expanded role, she stretched herself beyond expectations, and worked diligently to ensure Rhodes didn't skip a beat with regard to providing the necessary quantitative and qualitative information both internal and external stakeholders.
2022 Outstanding Professional Leadership & Service Award - Support Staff 
Sara Ricker, Office Associate for Health Sciences & Public Service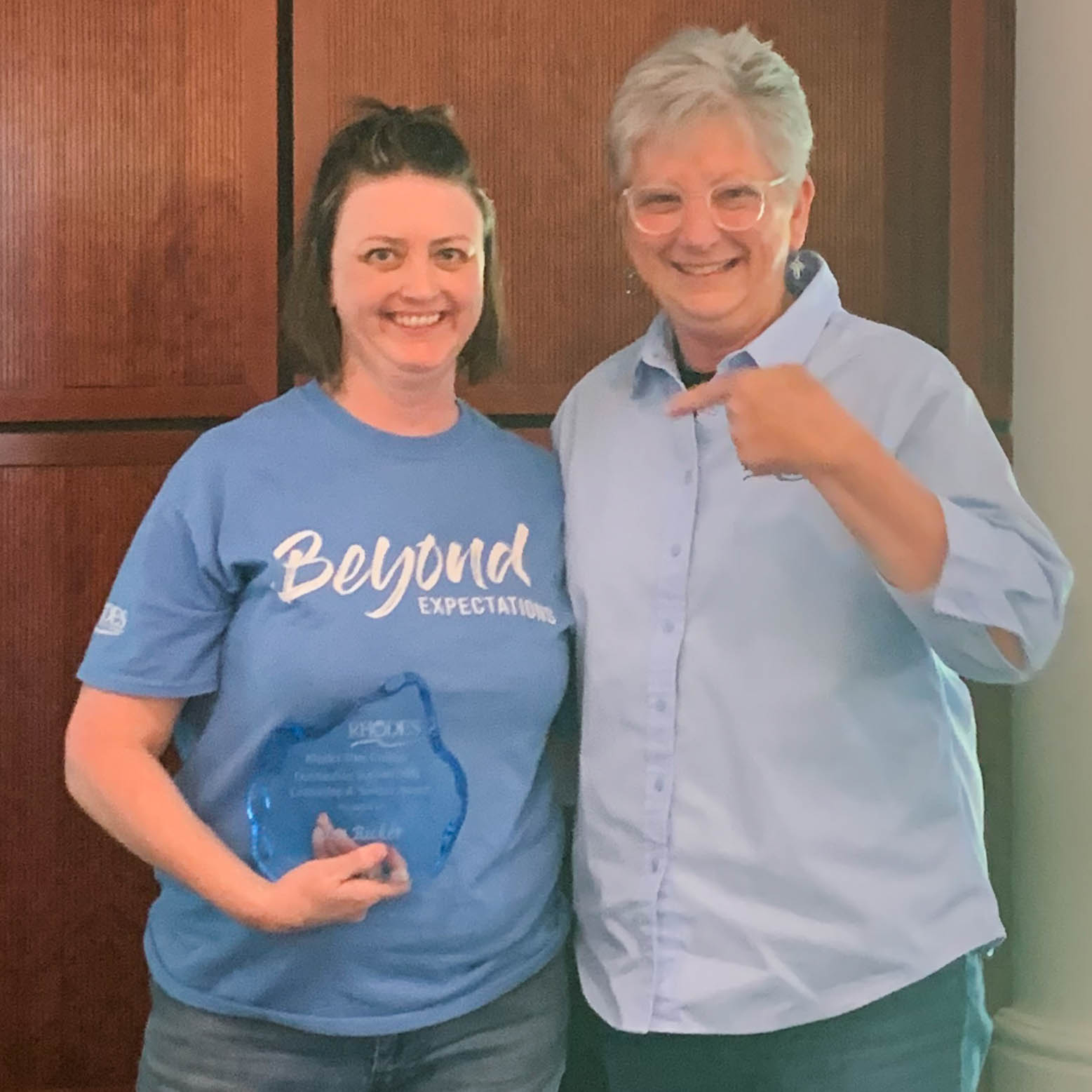 Sara treats everyone and everything with EQUITY and INTEGRITY. The Division appreciates her honesty and work ethic along with the enthusiasm, passion and compassion to everyone with whom she interacts. Sara goes above and beyond by taking on any project as demonstrated recently when assisting the Division with an event where she independently took on the set up and anticipated needs of the leader, having assistance and response before even being asked. She assists yearly with the Academic Awards printing, framing and organizing all of the certificates and set up for the packing event. Over a year ago, the Dental Hygiene clinic needed an office assistant and she volunteered to learn and assist in the clinic despite this not being her specialty area.  Sara assists in the Dental Hygiene Clinic to cover on clinic days when the public is served, two-three times per week during fall and spring semesters and also completes other division responsibilities. She is well-respected by all clinic staff, patients, and appreciated by student workers. Recently, two of those students stopped by to see her and thank her for all of her guidance and support. 
2022 John Fallon Early Teaching Award
Outstanding Professional Leadership & Service award for a New Instructor
Jesse Wallace, Engineering Technology Faculty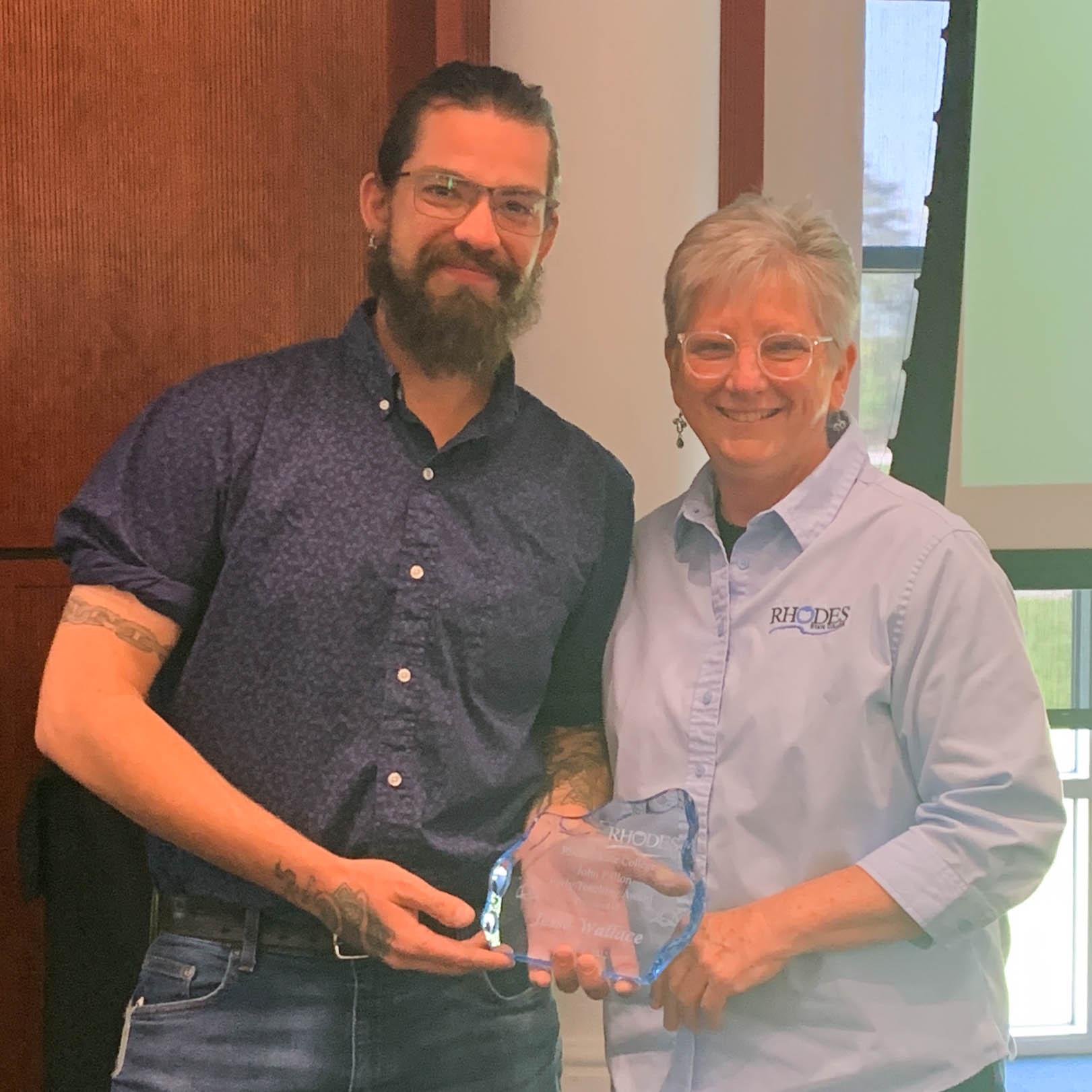 Jesse's nominator described him as someone who has waving enthusiasm, is a powerhouse of energy, a vibrant personality and brings a bit of a fun-loving style into teaching; all characteristics needed in a new faculty. Students like his attitude and group problem-solving techniques. That desire for learning has resulted in his pursuit of a doctorate degree, completing industry relevant 4.0 training and volunteering to be the lead faculty in the recently announced new AI and Machine learning program. I know that he is happy to be through the pandemic as we visited a few times and I look forward to seeing a new operational unit in JJC. As his colleagues stated "this is a great teammate to have, is always ready to test out new technology and equipment, shares his knowledge and looks forward to the next delivery at the manufacturing dock"; he is the right fit and has the right stuff.
2022 The Drs. Earl and Nancy Keese Faculty and Staff Leadership Award
Established by Drs. Earl and Nancy Keese to Recognize Outstanding Service
Angela Heaton, Dean of Health Sciences & Public Service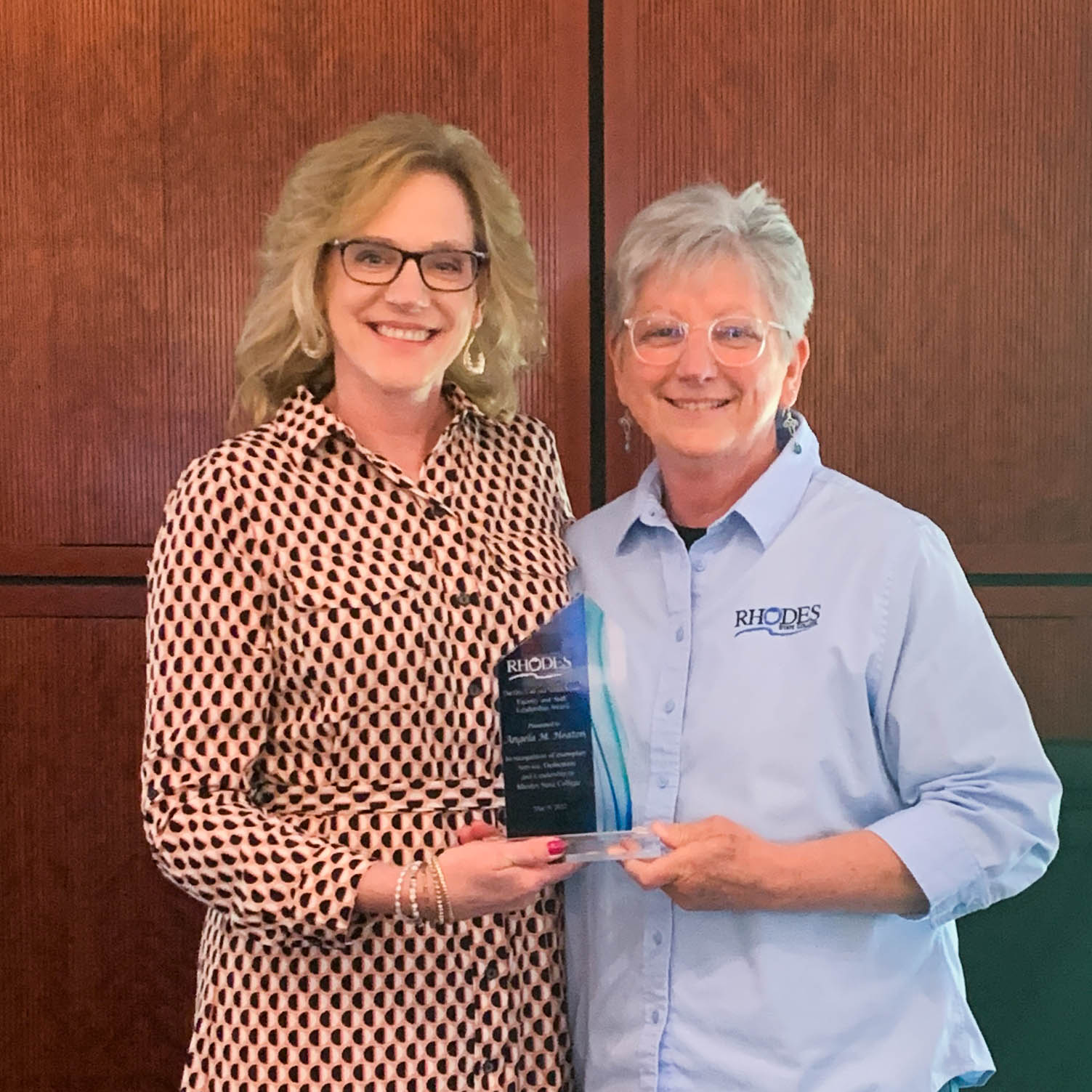 In recognition of the true leader in all of us, an award program was established to honor those individuals, internal or external to the College, who have given exemplary service and shown outstanding leadership to further the mission of Rhodes State College. The purpose of the award is to pay homage to the individual and publicly acknowledge unique personal contributions to the College.  The Faculty and Staff award is presented to Angela Heaton.  Angie has given exemplary service and shown outstanding leadership to further the mission of Rhodes State College. Her contributions to both the College and the communities we serve are excellent! Her positivity in every situation and can do attitude are infectious. The commitment to excellence, reluctance to quit, and passion to persist; combined with the never-ending smile on her face and reflected in her demeanor exhibit and organizational culture that our community partners and internal colleagues admire. She is definitely a brand ambassador of positivity, confidence, and excellence.
Angie has a winner's attitude that sees no problem as too complex to solve and no mountain too high to climb. Her unwavering dedication, commitment, and collaborative team spirit always go beyond expectations. She keeps us all inspired and advances our success internally and within the community. This was most evident in her team and community approach to the development of the BSN proposals.
Angie's willingness to believe, take risks, believe that challenging goals can be achieved and that success can be attained, helps Rhodes State College stay ahead of our competitors, grow our partnerships, and most of all, develop what is needed for our students, employers, and the communities we serve!
2022 The Drs. Earl and Nancy Keese Community Leadership Award
Established by Drs. Earl and Nancy Keese to Recognize Outstanding Service
TBA
Compass Presidential Award 
For Exemplary Contribution Toward Advancing the Success of the College
Joel Harris, Coordinator, Health Systems Technology & Simulation
Joel has been a quiet force behind the scenes, but has made an especially meritorious contribution to the interests of Rhodes State College. Starting in 1997, he has consistently demonstrated the ability to perform with the utmost sincerity and passion. Attention to detail is one of his greatest strengths and one of the many reasons that he is such an important asset for our organization. When coupled with the extra effort and diligence out into work every single day, it is clear that any organization would depend on Joel to achieve success.
Joel's contributions beyond expectations include stepping up to meet unexpected needs and manage significant technological advancements at the Borra Center for Health Sciences. His commitment to intellectual development and achievement are also noteworthy. He recently passed the International Certified Healthcare Simulation Educator credential exam and is now one of only 2,700 individuals to receive this distinction!
Previous Winners:  
Year
Faculty
Adjunct Faculty
Professional Administrator
Support Staff
John Fallon
 Keese Leadership
Keese Community Leadership
Compass
20-21
Ron Leonard 
Michael Leidy
David Bruns
Pamela Mooneyhan
Ahmed Mehmood
Angela Heaton
Jane Krites 

Kim Miller/

Kitt Horn 

19-20
Jill Hay
Jodi Pierstorff
Scott States
Mary Rex-Maley
Laurin Wolf
Eric Mason 
Alberta Lee 
Andrea Faber
18-19
Les Finley
Sally Jeffery
Linda Dodge
Nadine Gurto 
Eric Mason
17-18
Nora Beerlin
Norman Schnipke
Alissa Zimmerman
Trisha Kroeger
Becky Burrell 
16-17
Cheryl Grant
Dawn Bell
Rick Kohli
Sandy Kortokrax