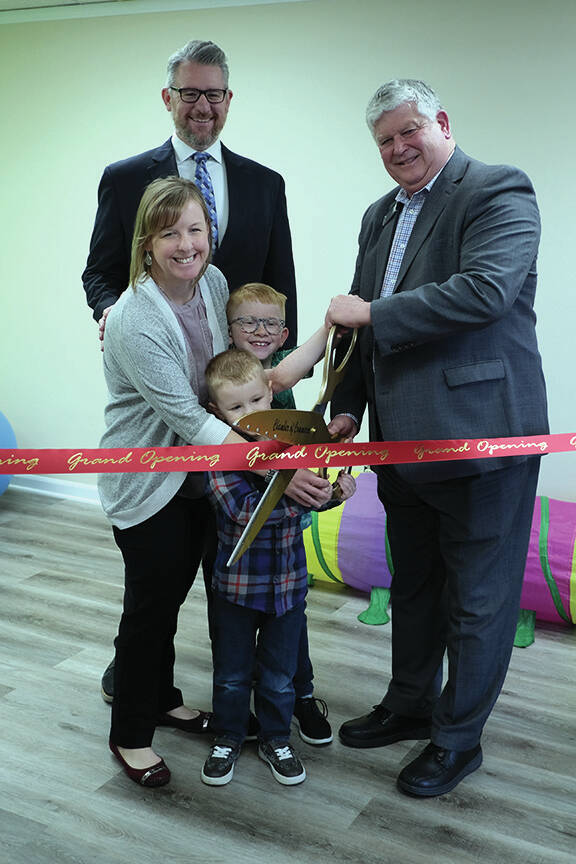 Play Matters celebrated its opening with a ribbon-cutting ceremony with the Lima/Allen County Chamber of commerce at the facility at 3113 West Elm Street, Lima, Ohio.
"About seven years ago I took over the pediatric unit at the hospital. The COVID hit. I started thinking about how I could serve families in my community. That led to the idea that maybe I could start my own clinic and do group therapy and lots of other things."
Play Matters believes that play is an integral part of development and can help kids overcome obstacles and thrive in daily activities.
Owner Laura Mitchell who has been an occupational therapist in the Lima area for 12 years has a number of groups planning to meet this summer. A school readiness camp will target children from age four through age six. The activities will focus on fine motor skills related to school activities including writing, cutting with scissors and manipulating small toys and objects. This group will also work on following directions and social skills.
The social skills group will allow kids the opportunity to practice social skills through play activities and cooperative games. Conversation skills, emotional control, and conflict resolution will be a part of this group.
The fine motor fun group will focus on developing stronger fine-motor coordination through engaging activities.
The interoception group is for kids ages 7 through 11. Kids will understand how their bodies feel on the inside exploring how feelings in our physical body can affect emotions and how to regulate and manage these feelings.
"I will treat any one from infants to 18 years old. I've done therapy with teenagers. We've been doing daily kind of self care life skills. So I've been working with a couple of teenagers teaching them how to cook and how to be safe in the kitchen and how to manage those types of tasks. I can work with the youngest to the older kids that are just preparing for life, for whatever reason, if those skills are a little difficult, then we can work on some strategies and ways to make them easier and make them successful and independent because that is the goal."
There will be an open house on 3 to 7 p.m. on May 20, 2022 to get more information and to see the facilities.
Laura is on faculty as an adjunct professor for the Rhodes State Occupational Therapy Assistant Program. She currently serves on the board of Autism Life Center, a local non-profit organization, and is a leader in the Special Friends Ministry at Lima Community Church as well. Laura resides in Shawnee with her husband, Matt and two sons, Thomas (8) and Jacob (4).
You can follow Play Matters and keep updated on current group offerings on Facebook, under the name "Play Matters - Pediatric Occupational Therapy".